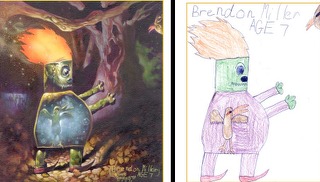 I rediscovered an artist the other day through a boingboing posting and decided that this time around, I simply had to remember to share. His name is Dave Devries and he creates rich realistic paintings based on the scrawled drawings of monsters that children draw. There's a certain beauty in them that captures a little sense of something ethereal and creepy. It only takes a minute, go give it a look.
In other news, dolphins have taken the next step toward being worshiped as gods by the New Age crowd by carefully crafting situations where they will be found using tools, proof evinced. This is extra good timing on their side, as just this week we've learned to breathe underwater as fish do.
However, they have not managed to make the useful as sexy sleek as Tsaya has. They make strap on wallets that look as if they were designed with an everyone-wearing-black mexican stand-off in mind that involves cell phones instead of guns. The idea is to replace the handbag with something you can wear and be active in. A pity, I think, that so far it's only made of black patent leather, though I'm certain that has it's own built in market.
Speaking of design, actually, I found that Dream Designs, the place I had my interview at, has a website. I highly recommend giving them a decco if you're looking for quality fabrics. As part of my interview, I asked what their policy was on corporate consumption and confirmed my suspicion that they're firm supporters of organic and natural products, a stance that only bolsters the respect I had for the company. I sincerely hope there's a strong possibility that I get a chance at this. To work what I call 'a real job' in a place where my skills fit and I have the opportunity to continue learning, it would be such a gift. Theater became tiresome, too many egos. The networking was an aspect I didn't mind so much, but the petty things that one had to remind oneself of constantly were wearing. This is a small city. This actress loathes that director who dislikes that actor who won't work with this costumer who's dating the first woman mentioned. Reliable employment, full time, is exactly what I want.
I'm feeling a little snow-blind lately. My week has been flurries of shredded newspaper information and I'm finding now that it's becoming hard to keep track of who has read what into my incruental sacrifices.
Curiosity, does anyone know who this artist is?