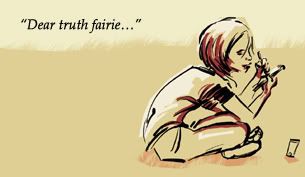 First part of a new story at The Secret Knots.
A rattling Arab Strap song, Love Detective, on repeat like the unofficial brother to another sophisticated story where 'the stars on his dressing room door take flight'. (here) Every time, it's such a perfect line. Green rooms across the border, I want it written on the walls. Let's go global. Band names scratched into mortar and paint and that line, that one elegant line, like a silent war against every badly crooned oh baby to make it top ten.
I watched a clip today of Trent Reznor encouraging his fans to steal his music, saying, "If I could do what I want right now, I would put out my next album, you could download it from my site at as high a bit-rate as you want, pay $4 through PayPal." Very much like the digital revolution ideal that Jane Siberry's already got going strong and that the Bare Naked Ladies are apparently following. (She offers songs next to a posted average of how much people have been paying for each, though you can download them for free.) Go Team Canada. Thankfully, now that he's finally free of his label, he's putting his money where his mouth is. Or rather, your money. Or lack of it.
So, news of the week: Finally free of his label, Trent Reznor has teamed up with Saul Williams to produce his latest album, The Inevitable Rise and Liberation of NiggyTardust!, and offer it on-line for Pay-What-You-Want.
Instead of obsessively selling albums, they are focusing on building their fan base through the release of quality art and making their money through positive response, touring and merchandising. The beautiful bones of an antidote to the ugly, overly packaged music industry that spawned the RIAA. To be able to directly pay for what you're getting, rather than knowing that a considerable percentage of the money is going to a label, it means a lot. Finally, direct influence, the ability to unequivocally encourage the artists we appreciate and wish to support.
Of course, I'm foolish enough to forgo the free download, and not because of the sly guilt the phraseology of the website provides, (that I completely applaud), but because, even though they're both successful artists and could suck it up better than some of the other musicians I regularly pass around, I feel what they're doing should be rewarded and encouraged. I want highly successful artists to start abandoning label-distributed albums. They're the ones that can pave the way. The higher up the food chain, the finer they understand the game, so the more we prove them right, the better. The more that collectively decide that this is the way to make money, the more this sort of distribution will become the norm.