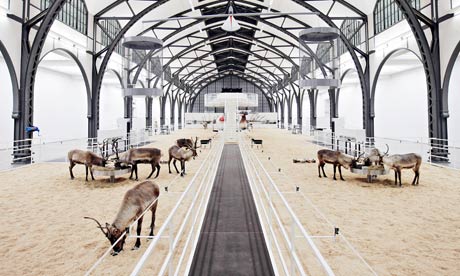 What could be more festive than spending a night locked in an art gallery with a dozen reindeer and a fridge full of psychedelic drugs?
A pen running the length of the Hamburger Bahnhof, now the city's contemparary art museum, contains 12 reindeer, 24 canaries, eight mice and two flies. Giant toadstool sculptures are planted on a mushroom clock that the reindeer can turn with their antlers, and at the centre is a mushroom-shaped "floating hotel" – a bed on a platform complete with minibar, yours for €1,000 a night. (There's also a raffle giving away free places.) […]

The urine is collected by handlers and stored in fridges by the walls, which also hold both dried and fresh fly agaric mushrooms. By day they're locked, but at night the fridges are opened, allowing people staying over to sample the contents. However, because only half the reindeer are fed the mushrooms, it's impossible to know which bottles, if any, contain hallucinogenic urine. […]

One side of the hall is the "test", the other the "control". Reindeer on the test side are fed the mushrooms. ("At least in principle," says Höller, helpfully.) On each side, the reindeer urine is spread on the food of the other animals. From observation posts, visitors watch the behaviour of the canaries, mice and houseflies for signs of intoxication and form their own conclusions. […]

Dorothée Brill, the museum's lead curator, says: "As far as we can tell, nobody's done anything they shouldn't have." Staff at the restaurant, however, report that some guests "drink the minibar dry".