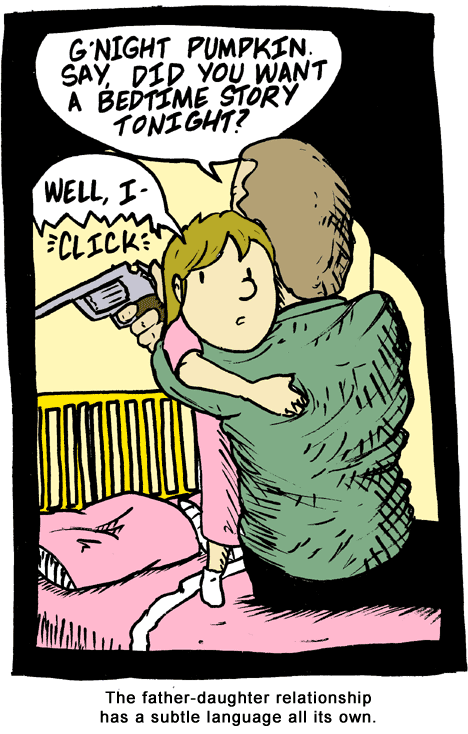 I barely know me. I stand in doorways, unblinking, standing and speaking words of conflict. I collapse on the sidewalk in heavy rain and half an hour goes missing. I hold him warmly close to me with a smile in my mind. I put my head to the side and try not to cry. Inside of me, things are changing. I remember compromise. You say this wasn't your intention, I say that's okay. You say and I say then they stood up and had too many words to say. Remember, this is what a little bit of love looks like.
I don't like that I carry this so she won't have to.
Every part disparate. I'm still unbalanced, so much is broken. I'm tidying now, brushing the pieces into a pile for later sorting. Which loss caused this jagged edge, which loss caused that. This year was many. I could make t-shirts. Arrested, Fired, He Lied, They Died. My humour's the right sort. On the back would be a list like tour dates.
Which reminds me: support my Jesus Monkey Pants. I have this one. It makes me sexy like Snakes on a Plane would, which is something I meant to mention weeks ago. I have an excuse, I've been eating multitudes of candy bars. They're not very healthy, really, and they're making my thoughts shake. They popped into existence to fill the space left by the cessation of hallowe'en proceedings and they're cadbury tasty, which is to say, not as good as pumpkin pie. I miss my pies. I didn't carve a pumpkin this year, so I didn't bake. Ah well, the Lesson is Learned but the Damage is Irreversible. (Also an ancient thing, I know, but it fit. You want something new, go find out about the underground city in Briton that's now up for sale. Then buy it for me. I will send you nekkid pictures. Lolz. Now bugger off.)
I really should be in bed by now, but I'm waiting for dye to set in my hair. My hands are flecked with purple, a nice reminder of what the bathroom will look like in about twenty minutes. I'm being patient, though I don't feel like it right now. The bed's empty, it's all cold tumbled gold pillows and scarlet bands of silk and I feel like the faster I fall into it, the quicker I can pretend it's morning. Red shift myself into a different day, one where I might be sleeping next to someone. Alone is not terrific for me now, but I can deal with it. Alone without promise of company, however, is bad.
Nicholas will be here tomorrow. I'm looking forward to it. He and Esme are coming in from Victoria for a concert and dinner at Andrew's with me and Ray. He asked for Chris too, but I don't know if that's going to happen. I deked out of rehearsal today before I could ask. There were issues with my roommate James that needed sorting, and tonight was really the best time to get it done with.
p.s. world, send new Explosions In The Sky, Porcupine Tree and Bethurum. thank you.